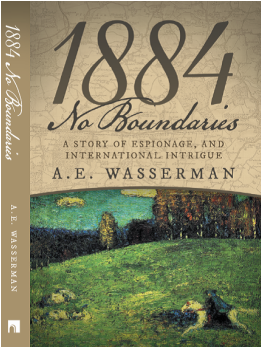 Available at your local booksellers, Amazon, and Barnes & Noble

1884 NO BOUNDARIES

Love, murder, sex, and terrorism swirl within a collapsed world economy.
No, it's not today.
It's London, 1884.

Recently married LANGSFORD, born of wealth and privilege, is bound by the restrictions of Victorian society. Dynamite has been invented, but the term "homosexuality" has not and men can be arrested for either.

Langsford helps visiting friend, HEINRICH, nearly eighteen, innocently flirt with young ANNA at London's Leadenhall Market.

What should be the end of the story becomes the beginning, for Heinrich falls in love with her, never part of the plan. Instead it becomes the catalyst for what follows. Events unfold that expose terrorists, espionage and international intrigue.