November 9 A.E. Wasserman will be speaking November 9th at the 59th Annual Fundraising Luncheon hosted by the
Palos Verdes Women's Club at Trump National Golf.



The daughter of a newspaperman, A.E. Wasserman grew up in a household filled with books and stories. At age 14, she wrote her first novella and never stopped writing.

She is the author of a new mystery/thrillers series, the first of which takes place in London:
1884 No Boundaries, A Story of Espionage and International Intrigue.
The second in the series, set in San Francisco 1886 Ties That Bind, A Story of Politics, Graft, and Greed has just been released.

Her work, critically acclaimed as "richly atmospheric," is being noticed by readers and critics alike, and has garnered international attention, not only in the U.S., but Europe and the U.K. as well.

After graduating from The Ohio State University, she lived in London, then San Francisco. Currently she resides in Southern California with her family and her muse, a Border Collie named Topper. She recently received top honors from Writer's Digest for her work.


Award Winner of the Writer's Digest 81st Annual Writer's Competition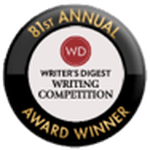 It has just been announced that, There Are Three of Us, won an award in the prestigious Writer's Digest Writing Competition. An excerpt from this story can be found in the "Necessary Stories" tab above.