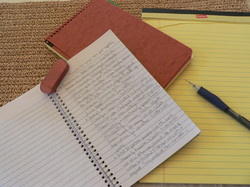 I believe that everyone has a story to tell, living or dead. Many things trigger a story in my head; an experience, a specific person, even an object like a cell phone can spark questions. Who used it? Where were they? Who did they call? And I'm off and running. Well, again, the fingers dance on the keyboard and something fun, dangerous, exiting comes out on the monitor.

Often I find it more effective to fit a power-packed story into the short story format to gather more emotional punch.

The following is from one of those short stories that carries such an impact.


---